Summer was last seen around 6:30 p.m. on June 15, 2021, at her family home located along Ben Hill Road in the Beech Creek community of Hawkins County, Tennessee. Her family said she was headed down to the basement to play with her toys. Her father, Don Well, believed she was taken by someone. That prompted an Amber Alert to be issued for her the next day.

Summer Wells' father shared heartfelt letter written to daughter
Summer's father, who is currently in jail on charges not related to her disappearance, said he has had a lot of time to think, reflect, and read the bible. He wrote a letter to his young daughter adding he hasn't given up hope.
"Since you've been gone, I've been completely devastated. I looked everywhere for you, my beautiful girl! I thought YouTube would be the most powerful tool to help find you, and perhaps it still could be, but at a price we may not be able to afford, our family may not survive! I'm sorry, my beautiful girl, that I completely lost my mind! With so many thoughts of people hurting you and I know you want to come home, and there's nothing I can do; I'm powerless! So, I ask God please look over my precious daughter. We love her so much! We wish God you will return her to us as well as the boys. I would be so happy to be a family again!"
Investigation spokesperson Leslie Earhart gave an update on the case after a year. They reflected on the early days of the case.
Earhart said she knows there are a substantial amount of people across the country who care deeply about Summer and her disappearance, but ask people not to call in tips based on YouTube videos or social media speculation.

"No one wants answers more than we do," she said.
Sheriff Lawson said this is the biggest investigation in the county's history and it has weighed heavily on everyone.
"It's heartbreaking to me, my law enforcement officers and the community," he said. "We've never stopped."
The sheriff said he will continue to follow up on all creditable leads and conduct targeted searches where appropriate, all to find Summer.
"We've never stopped we've never slowed down. We deal with it everyday," he said. "We haven't stopped."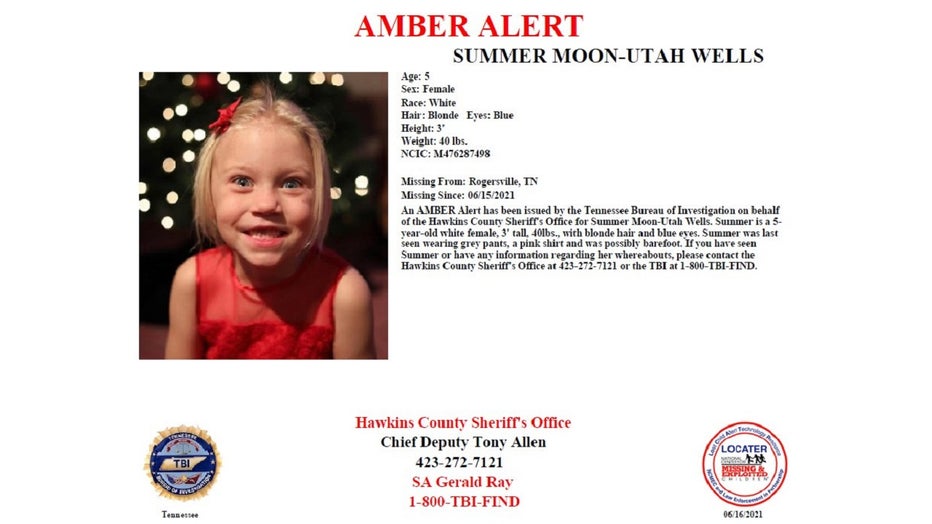 TIMELINE: AMBER Alert search for missing Tennessee 5-year-old Summer Wells
JUNE 15
The Tennessee Bureau of Investigation issues an Endangered Child Alert for 5-year-old Summer Wells, after her parents reported her missing the evening of June 15.
Summer Wells is last seen outside her home in the 100 block of Ben Hill Rd. in the Beech Creek area of Rogersville, Tennessee.
At the time of her disappearance, Summer was wearing gray pants, a pink shirt, and is believed to have been barefoot. She stands at about 3 feet tall, weighs 40 lbs and has blonde hair and blue eyes.
JUNE 16
The TBI elevates the Endangered Child Alert for Summer Wells to a statewide AMBER Alert. According to the TBI, an Endangered Child Alert is a mid-level alert, while an AMBER Alert is issued when authorities believe a child may be in imminent danger.
"Bottom line is we don't know where she is at this time," TBI's Leslie Earhart said at a June 16 news conference.
At this point, TBI agents are following up on all leads and holding out hope for the best possible outcome.
Residents in the Beech Creek community are asked to review their security and trail cameras for footage that may lead detectives to find Summer.
JUNE 17
Concerns grow for Summer Wells as the circumstances surrounding her disappearance remain unclear.
Investigators from nearly 20 other law enforcement agencies in Tennessee are up against extreme terrain and have covered a one-mile radius from Summer's home by ground at this point.
At this time, there are no official suspects or persons of interest in the disappearance, but Hawkins County Sheriff Ronnie Lawson says, "Everybody's a person of interest until we find Summer."
The father of Summer Wells speaks to reporters and shares his appreciation for everyone searching for his daughter. Donald Wells said Summer and her grandmother and mother were outside planting flowers Tuesday night. From there, he said Summer came back inside the house and went downstairs to play in the basement with her toys. A short time later, he says Summer's mom came in the house and asked where Summer was at. That's when they say they called for her and went downstairs to discover that Summer was gone. Donald said he has no idea what might have happened to his daughter. https://fox17.com/news/local/amber-alert-father-of-missing-5-year-old-hawkins-county-girl-speaks-out-asks-for-prayers
JUNE 18
The TBI says all avenues in the search for Summer Wells are being explored. Search teams consist of more than 100 trained professionals from 41 different law enforcement agencies.
"We're not going to stop until we find her," Sheriff Lawson said.
The TBI announces they are looking into two main aspects of the investigation: the ongoing search itself and how she disappeared in the first place. At this point, they have followed up on 85 leads.
Land, ponds and creeks in the Beech Creek area are being searched in hopes of finding Summer safe. Meanwhile in Hawkins County, flowers and balloons are placed in a prayer garden for Summer.
JUNE 19
Crews continue over the weekend searching tirelessly by ground, air and with K9 teams for Summer.
JUNE 20
Just after midnight Sunday, teams were observed using a spotlight to search the area by air. Ground crews were also spotted going into the woods off Beech Creek Rd. not far from where the 5-year-old was reported missing. https://wcyb.com/news/local/crews-use-spotlight-to-search-overnight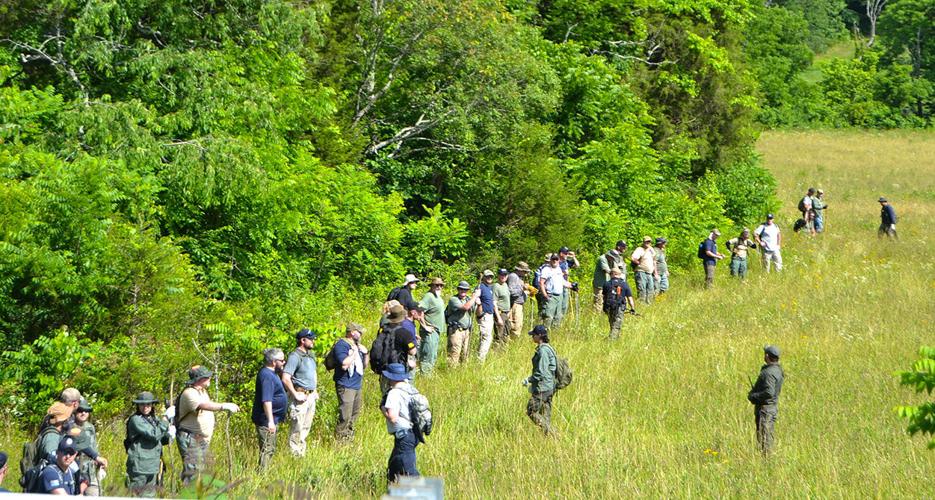 JUNE 21
The TBI says they are "more concerned than ever and desperate" to find Summer Wells. At this time, the TBI insists they have no evidence of an abduction but that the possibility isn't being ruled out.
The TBI believes it's possible Summer wandered off and is "lost and afraid," but the Federal Bureau of Investigation's Child Abduction Rapid Deployment team is now being used as a resource.
Search and rescue efforts are still the main focus of the investigation. 72 agencies from Tennessee, Alabama, Ohio, Virginia, Georgia and North Carolina have searched 2,400 acres for Summer.
Agents follow up on several leads, including residential surveillance video and photos from around the area of Summer's home. The TBI announces that drivers spotted on the surveillance footage at the time of Summer's disappearance have been identified and interviewed.
JUNE 22
One week has passed by since family members reported Summer missing.
The TBI has combed through 221 leads in the search for Summer, and they're asking for the community's help. Investigators urge property owners in the Beech Creek area to check their barns, crawl spaces and any other places a child could hide for Summer.
"We desperately need help from the community now searching their own property," Sheriff Lawson said.
Teams on the ground have covered 4.6 square miles in the search for Summer. Search efforts continue, but with a focus on specific areas using specialized teams.
Investigators conducted roadblocks, speaking with drivers who often travel through the Beech Creek area to see if they have noticed anything out of the ordinary the day Summer went missing.
JUNE 23
The search for Summer Wells continues. An East Tennessee man is offering a $2,000 reward for information leading to the safe return of the missing 5-year-old.
Trevor Lee, 19, of Bristol, said he's been saving the money for a while but felt compelled to offer the reward.
"There's no other direction I wanted this money to go," Lee told our sister station, WCYB.
He says he will work with authorities to distribute the money.
Lee joins the community sentiment in holding on to hope. Summer's Sabbath Day teacher, Robin Lane, described her as a "happy little girl" who has a ton of energy.
She remembered that Summer gave her a necklace for Mother's Day that she will always treasure. Read the full story here.
JUNE 24
Search teams are continuing to focus on the Ben Hill Road area. Investigators are conducting line searches Thursday afternoon in the Beech Creek area, close to where Summer was last seen.
"The purpose is to ensure that every inch of ground has been covered," the TBI said. "Especially overgrown areas and fields with high grass."
As search teams keep scouring the area for Summer, agents are following up on investigative leads.
As of Wednesday, the TBI received 304 tips. So far, none of them have resulted in any significant developments in the case. The TBI held a news conference Thursday – READ MORE HERE.
Officials say Summer's case is "out of the norm." When asked if the TBI believes Summer is still alive, a spokesperson said: "We hope so, but honestly we just don't know. We're holding out hope, doing everything we can. Obviously, we typically would've found a child at this stage in the investigation, so honestly we just don't know."
JUNE 25
Nashville officers joined the search for Summer. 12 members of the Metro Nashville Police Department's Urban Search & Rescue Team headed to Hawkins County to help with the search at the request of the TBI.
As of Friday afternoon, the TBI has received 394 tips in the search for Summer. None of the tips have resulted in a solid lead.
JUNE 26
The TBI is looking to speak with a potential witness in the Summer Wells case.
The agency says they received a tip that a Toyota pickup truck had been seen in the area of Beech Creek Rd. and Ben Hill Rd. in the late afternoon to early evening hours on June 14 or June 15. The TBI has not been able to identify the driver yet.
Investigators want to know what the person may have seen or heard at the time and is asking them to call 1-800-TBI-FIND.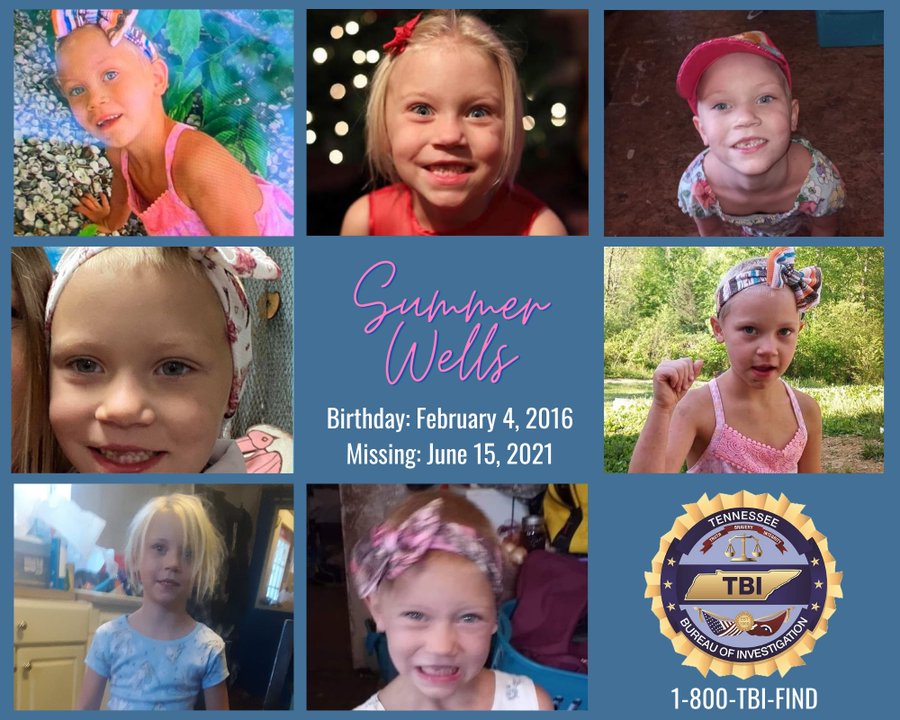 JUNE 27
Incident Commander of Search Operations Tim Coup announced plans to scale back search operations in the Summer Wells case. He says search efforts will continue but more on a specialized team basis due to the tough terrain.
"At this time, we are scaling back search operations. Search efforts will continue on a more specialized team basis as needed and directed from local, state, and federal agencies. Just because we may not be seen as such a large present in and throughout the area, rest assured that we have not quit and won't quit until we find Summer Wells," Captain Coup shared.
Since the search for Summer began on June 15, there have been 1,150 searchers on the ground that have logged 13,800 hours. The TBI says 4.6 square miles have been covered and 3,000 acres searched.
120 different agencies from Tennessee, Ohio, Virginia, Alabama, Georgia and North Carolina have spent time searching for the missing 5-year-old.
JUNE 28
Even though search efforts have been scaled back, the TBI insists the investigation into the disappearance of Summer Wells is ongoing.
At this point, authorities have sifted through more than 560 tips.
Anyone with information about the case is urged to call 1-800-TBI-FIND.
JUNE 29
Two weeks have now passed since Summer Wells went missing. A reward fund has been finalized in the search.
Money will stay in the fund for six months, Church Hill Rescue Squad Captain Tim Coup says. If there are no tips or new information that lead to the discovery of Summer, the money will be donated to the Child Advocacy Center.
Learn more here.
JULY 8
The TBI assures the community the investigation into the disappearance of Summer Wells remains active and ongoing.
None of the tips in the case have resulted in a credible lead.
JULY 12
The Tennessee Bureau of Investigation has received 935 tips in the search for Summer.
Hawkins County Sheriff Ronnie Lawson says at this point in the investigation, everyone is still a person of interest.
"Everything that we do is trying to put a piece of the puzzle together to find Summer.
Authorities are asking people in the Beech Creek community to recheck any cameras on their property.
"It may not mean anything to the people, but it may mean everything to us," Sheriff Lawson said.
If you have tips on Summers disappearance call the tipline : 1-800-TBI-FIND or e-mail: [email protected]