While Woodson and Ware are modern-era finalists, Cowboys great and Super Bowl V MVP Chuck Howley is a senior finalist.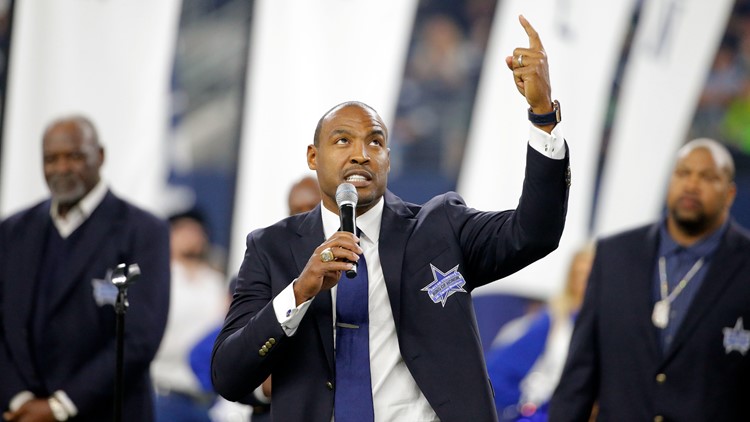 DALLAS — Will this be the year?
Three Dallas Cowboys greats are among the finalists for the Pro Football Hall of Fame's Class of 2023: Darren Woodson and DeMarcus Ware as modern-era finalists; and Chuck Howley as a senior finalist.
The finalists were announced on Wednesday night by the Pro Football Hall of Fame as we inch closer to this year's list of inductees.
The Class of 2023 will be announced on Feb. 9 during the annual NFL Honors program.
Darren Woodson
Woodson was a high-powered safety for the Cowboys in the 90s and during their three Super Bowl championship runs.
The four-time All-Pro safety spent his entire 13-year career with Dallas after being picked in the second round of the 1992 NFL Draft. He set the record for most tackles in franchise history in 2002.
Woodson first became a candidate for the hall of fame in 2008, and Dallas fans have been calling for his induction ever since. He was inducted into the Cowboys Ring of Honor in 2015.
DeMarcus Ware
Second time's the charm.
Ware is, again, among the finalists for the hall of fame in just his second year of eligibility. He was a finalist in 2022.
The nine-year Cowboys linebacker was a force for the Dallas defense after being drafted in 2005 out of Troy University. He played for the Cowboys through 2013.
In his nine seasons with the Cowboys, he recorded 117 of his 138.5 career sacks and was named to the All-Pro first team four times.
Ware was a quarterback's worst nightmare during his time in Dallas. He had a career-high 20 sacks in 2008, along with 15.5 sacks in 2010 and 19.5 sacks in 2011.
Ware played the last three years of his career with the Denver Broncos, where he got a Super Bowl championship.
Chuck Howley
Howley was chosen as a senior finalist on Wednesday.
The former linebacker played the majority of his NFL career with the Cowboys from 1961 to 1973.
Howley was a five-time All-Pro linebacker and Super Bowl VI champion.
He is also the only player in NFL history with a Super Bowl MVP honor while on the losing team. He recorded two interceptions and a forced fumble during a 16-13 loss to the Baltimore Colts in Super Bowl V.
Howley was inducted into the Cowboys Ring of Honor in 1977.