Coming off an abysmal performance against the Washington Commanders in week 18, the Dallas Cowboys missed an opportunity to head into the playoffs with momentum.
The question now, can the Dak and the Cowboys finally make some noise in the playoffs coming off back-to-back 12-win seasons?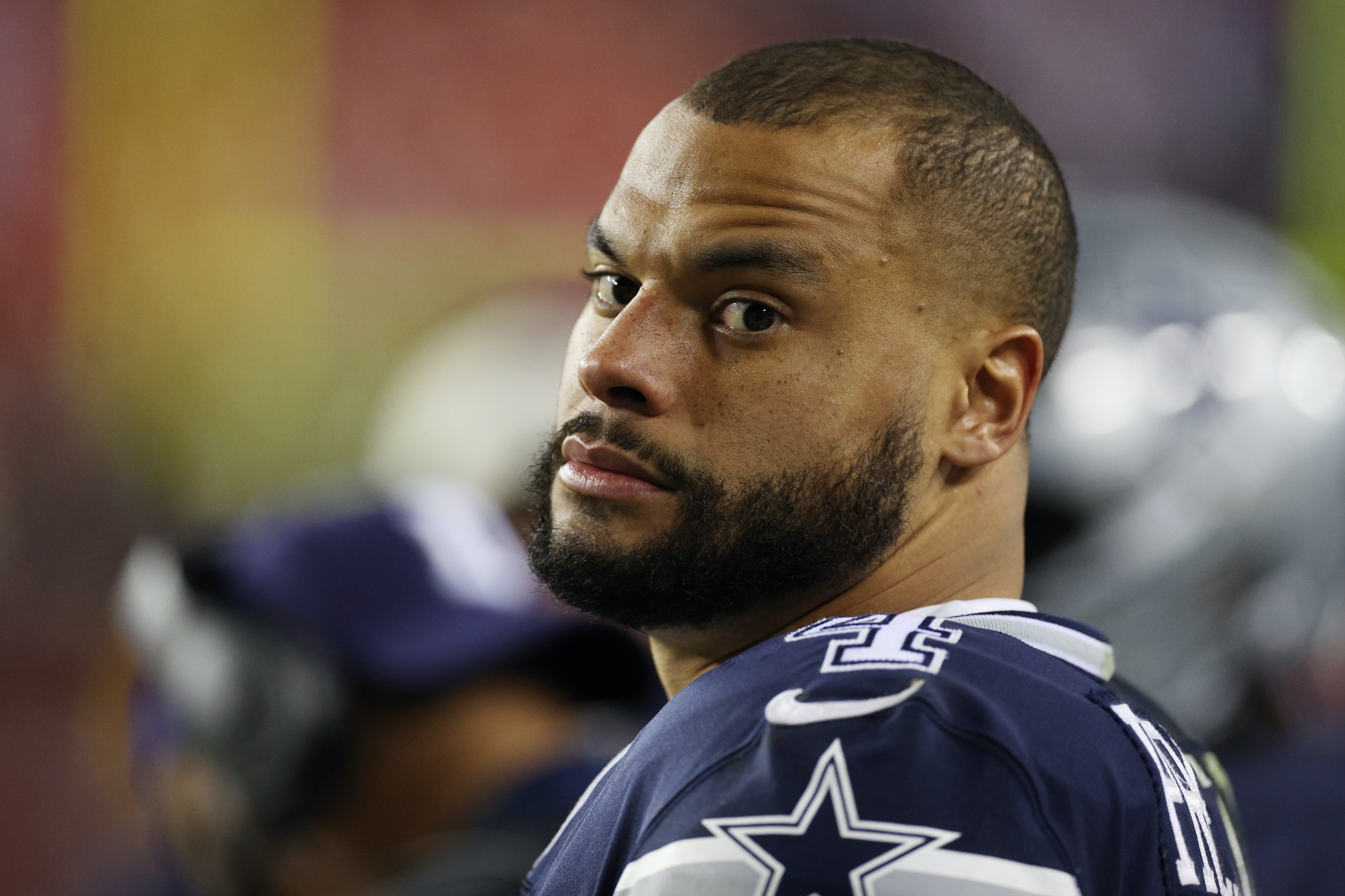 Dak Prescott
Dak Prescott and the Dallas Cowboys haven't lived up to Playoff Expectations in Recent History.
The Dallas Cowboys will now head on the road to take on the 8-9 Buccaneers led by the GOAT, Tom Brady himself.
To top it all off, the Dak Prescott led Dallas Cowboys have only won one of four playoffs games dating back to 2016. Their sole win came back in 2019 when the Seattle Seahawks fell to the Cowboys 24-22 in the NFC Wild-card game in Arlington.
As Dak leads America's Team into Tampa, Cowboys Nation is fed up with the lack of playoff success. As unfair as it is, Dak Prescott has become the scapegoat for the shortcomings in Dallas. The only way to right the ship in the eyes of the fans is for Dak to lead a deep playoff run starting Monday Night in Tampa Bay.
Dak Prescott Must Lead the Dallas Cowboys Deep into the Playoffs.
The Cowboys are coming off back-to-back 12-win seasons and have nothing to show for it. They haven't won a road playoff game since 1992, and haven't won 2 or more playoff games in a single post season since their last Super Bowl run during the 1995 season.
With Dak Prescott under center, the Cowboys have a 62.8 win percentage but have only played in four playoff games within that same time-span. Last year in the playoffs against the 49ers, the Cowboys played what many consider to be one of their worst playoff performances of all-time.
The offense only put up 307 yards and 17 points but had a playoff record, 14 penalties for 89 yards. Prescott was not at his best either as he only completed 53.5% of his passes for 254 yards, one touchdown, one interception, and a passer rating of 69.3.
Screenshot
That performance has placed a maligned view on how Dak has performed in the playoffs throughout his career. Yes, the Cowboys only have 1 win under his reign, but it isn't for the lack of efficiency on Prescott's part.
In his other three playoff games (minus 49ers game), Dak has posted a completion percentage of 63.9, 274 yards per game, 5 touchdowns, 2 interceptions, and a passer rating of 97.3.
I'm not absolving Dak altogether, but the last time I checked football was still a team sport. Dak has led this offense to a playoff average of 23.5 points while the defense has allowed 27.3 points per game. Not to mention, Dallas averages 7.8 penalties for 52.8 yards in Dak's four playoff appearances.
The Cowboys have only had two playoff wins in 25+ years so it' s fair to criticize this franchise for their lack of success. This is still a team sport so everyone from Mike McCarthy down needs to show up this Wild Card Weekend to include Dak. He has yet to make it over that playoff hump but he can change the narrative with a NFC Championship Game or Super Bowl appearance this year.
What Dak will we see Monday Night? 2016 versus Green Bay or 2021 against San Francisco?