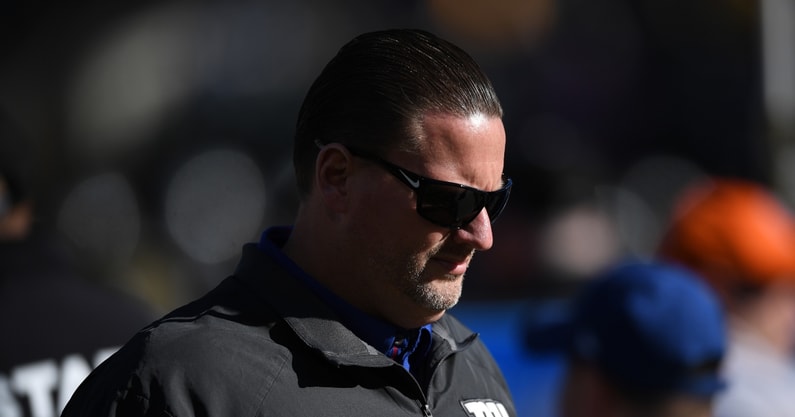 The Dallas Cowboys have an interview on Wednesday with Panthers running backs coach Jeff Nixon but Mike McCarthy will interview several candidates before the process of replacing Kellen Moore is over. ESPN reporter Todd Archer joined 105.3 The Fan on Tuesday to discuss some other names to know who could be a fit for the Cowboys in 2023.
Although initial reports revealed that McCarthy will call his plays for the offense next season, Archer isn't certain that's the case.
"I was told that's to be determined at this point," Archer said. "It could happen and maybe it will happen. Clearly, I think he'll have more say in the offense than he had in the last three years."
The Cowboys insider had several names to share, including an intriguing option out of Philadelphia.
"Obvious ones, Brian Schottenheimer, Ben McAdoo," Archer said. "The name I'm intrigued about is Brian Johnson, the Eagles' quarterbacks coach. Dak (Prescott) has spoken highly about him, he worked with him at Mississippi State. We've seen what Jalen Hurts has done in his two years as the starter with him as the QBs coach. I think that's a guy you at least investigate to see what he's all about."
Schottenheimer, who served as a coaching analyst for Dallas this season, and McAdoo, a former Cowboys staffer and Panthers coordinator, are both familiar options for McCarthy. However, Johnson's work with Hurts and his rapport with Prescott could make him the ideal choice. The quarterbacks coach isn't calling plays now in Philly and therefore, wouldn't be taking a step down by working under McCarthy.
Cowboys begin offensive coordinator search
One hot name to cross off the list is former Cardinals head coach Kliff Kingsbury. Although he would come at a bargain for Dallas, which Jerry Jones would appreciate, Kingsbury has called his own offense for some time and would be loath to relinquish control.
"I don't see a Kliff Kingsbury, that would be a Jerry special to get the guy who's making $8 million as a head coach and you pay him $150,000 as an offensive staffer like the Bill Belichick did with Matt Patricia and Joe Judge up there," Archer said. "I don't think that's going to happen."
Although the Cowboys made it to the second round of the playoffs, McCarthy's now-warming seat could prove to be a hurdle during negotiations.
"All of these coaches have to weigh, how long of a future does Mike McCarthy have to make this a palatable place to come to," Archer said. "If you think he's on a one-year deal, you may be better of staying where you are if you have a job. Or you're taking a bit of a gambit."