Dak Prescott enters the 2023 NFL season at the halfway point of his four-year $160 million contract with the Dallas Cowboys.
The issue for the franchise is the way it's currently structured in relation to the salary cap. The final year of the deal, which accounts for the 2024 NFL season, carries an insane $59.4 million cap hit.
The cap hit in 2024 more than doubles his reasonable $26.8 million cap hit for the upcoming 2023 NFL season. The significant jump in pay structure has created a ton of buzz around the Cowboys' organization that it may be time to start talking about a contract extension to renegotiate his 2024 cap hit to a more manageable number.
In The Dallas Morning News, Cowboys insider Calvin Watkins discussed how most around the organization believe they will extend Prescott's contract at some point this year. He explained that it's likely more a matter of when (and what the financial structure will look like), rather than if he will receive a new contract.
A potential Dak Prescott contract extension could benefit both sides.
The star quarterback will earn more total money and continue his career in Dallas, while the Cowboys will have the flexibility to spread the money across more years. This will allow them to reduce their daunting 2024 cap hit, and use that money to improve other areas of the roster.
Watkins explained that the magic number for elite quarterbacks is right around 20% of the total salary cap. Prescott occupies about 12% of the salary cap in 2023, which jumps to a massive 23% in 2024.
Deshaun Watson is the only quarterback currently under contract that is scheduled to account for a higher salary cap hit than Dak Prescott in 2024.
Recent extensions given to other star quarterbacks (including Russell Wilson and Aaron Rodgers), have also been structured to account or roughly 20% of the salary cap in 2024.
The Cowboys could potentially use this same model for Dak Prescott, while bringing additional long-term security to the most important position in the NFL.
Jerry Jones continues to express confidence in Dak Prescott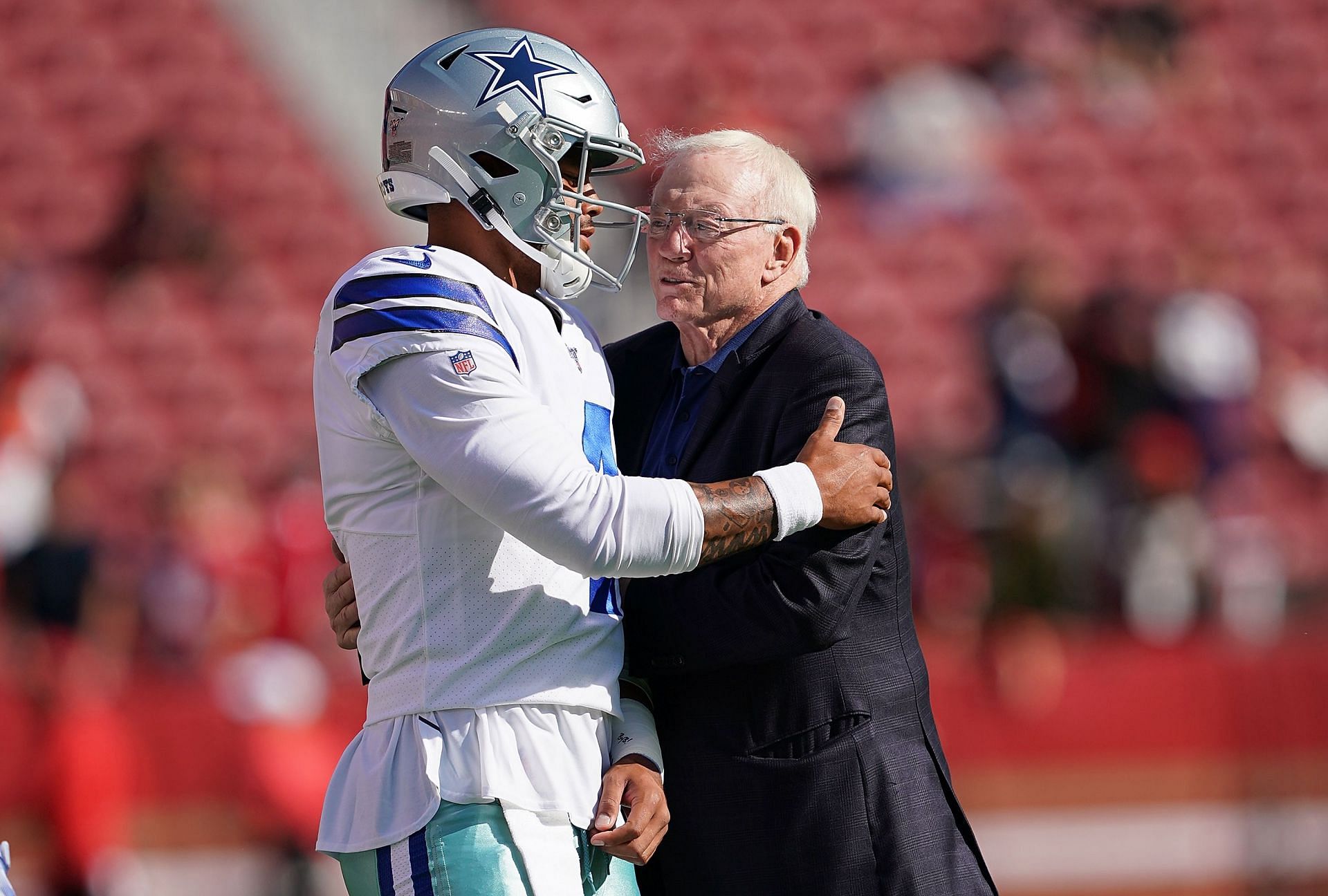 Jerry Jones hasn't been shy about expressing how badly he wants to win another Super Bowl ring. While Dak Prescott has failed to even get him to the NFC Championship game to this point in his career, Jones still believes that he eventually will.
Here's what the Cowboys owner had to say about his quarterback during the 2023 NFL offseason:
"I'm very strong on Dak. We have, in my mind, a unique person, a unique football player, a unique quarterback .. This whole thing reflects the upside that I feel in Dak .. This has everything to do with the positives around Dak. It's building around Dak."
The Cowboys recently fired offensive coordinator Kellen Moore and assigned playcalling duties this year to head coach Mike McCarthy. They also made a significant upgrade to their wide receivers, acquiring Brandin Cooks via trade with the Houston Texans. Jerry Jones claimed these moves were made to continue supporting Dak Prescott as they make another push for the ring this year.