Dallas lost to Tampa Bay in Week 1 of the regular season.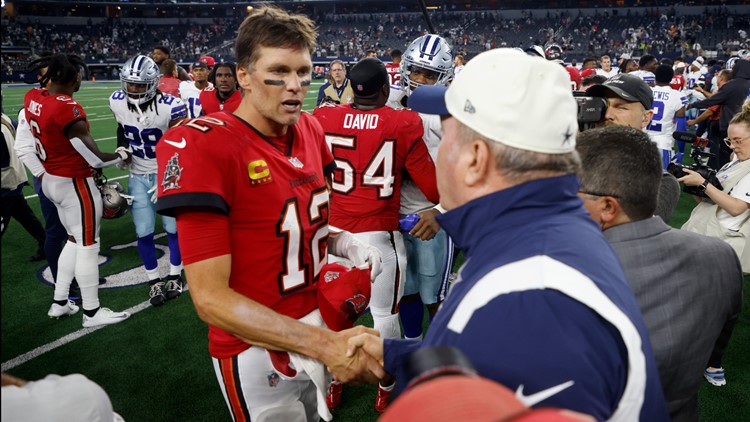 DALLAS — The Cowboys' playoff match-up is now set.
Dallas will have a date with Tom Brady and the Tampa Bay Buccaneers in the wild card round of the NFL playoffs.
The Cowboys had a chance to move up in the playoff picture in the final week of the regular season but fell short after the Philadelphia Eagles won against the New York Giants.
As the fifth seed in the NFC, Dallas will head to Tampa Bay to try for a coveted (and rare) playoff win.
But, it won't be easy.
As Cowboys fans are well aware, Brady has been a thorn in Dallas' side through his hall-of-fame career with the New England Patriots and recently with the Bucs.
Brady is 7-0 against the Cowboys.
The Bucs beat Dallas in Week 1 of the 2022 season, 19-3, in an ugly performance by the offense on Sunday Night Football.
It was also the game where Cowboys quarterback Dak Prescott suffered a thumb injury, sidelining him for five games.
While the playoffs are a completely different animal when it comes to the NFL, the Cowboys haven't instilled much confidence following some questionable performances within the last weeks of the regular season.
Imagine what Tom Brady is thinking right now, watching this Cowboys team play…

— Mike Leslie (@MikeLeslieWFAA) January 8, 2023
With a chance at the NFC East title in Week 18, the Cowboys had a poor showing against the Washington Commanders, who were starting rookie quarterback Sam Howell and had nothing to play for.
While the Eagles ended up winning their game, Dallas seemed to play their entire last regular season game as if it didn't matter. They lose 26-6 to Washington.
The good news for Cowboys fans is that the regular season is no more, and it's time to focus on the playoffs.
The Cowboys-Bucs wild card game is set to kick off on Monday, Jan. 16, at 7:15 p.m. CT.
The #NFLPlayoffs start with #SuperWildCard Weekend! pic.twitter.com/blHs0K3j7n

— NFL (@NFL) January 9, 2023
Source: https://www.wfaa.com/