The expectations in Buffalo are high, and Bills receiver Stefon Diggs recognizes that … all leading to Cowboys trade gossip.
FRISCO – Buffalo Bills receiver Stefon Diggs is unhappy about … something.
Is his disgruntlement fueled by not being a Super Bowl participant with the Buffalo Bills?
Or is it fueled by him bring a Buffalo Bill, period?
"It doesn't make sense," Diggs said recently, speaking on Buffalo's inability to get over the championship hump. "I will rack my brain with this s*** this point."
There is a mountain of circumstantial evidence – and more, unconfirmed gossip – that's caused Diggs watchers to ponder the possibility of a trade to the Dallas Cowboys, a concept we dissect here in five simple steps …
1- Diggs pouted on the sidelines in the face of QB Josh Allen and then stormed out of the Bills locker room following a disappointing playoff loss to the Bengals.
2 – Stefon's brother Trevon, the Cowboys standout cornerback, started an offseason Twitter campaign urging Cowboys Nation to publicize the idea of a trade to Dallas.
3 – Stefon made changes to his social media accounts that in some cases included removal of Bills pictures … while some of his Cowboys-related connections remain in place.
4 – Two Dallas media reports suggested this month that the Cowboys are "working on a big, big move," as 105.3 The Fan phrased it. As an extension of that, the team's flagship station tossed into the ether the notion of Stefon to Dallas being the top-secret plan.
5 – A Facebook meme quoted an "NFL GM" as announcing on "Toronto radio" that "Stefon to the Cowboys is the hottest rumor at the Scouting Combine."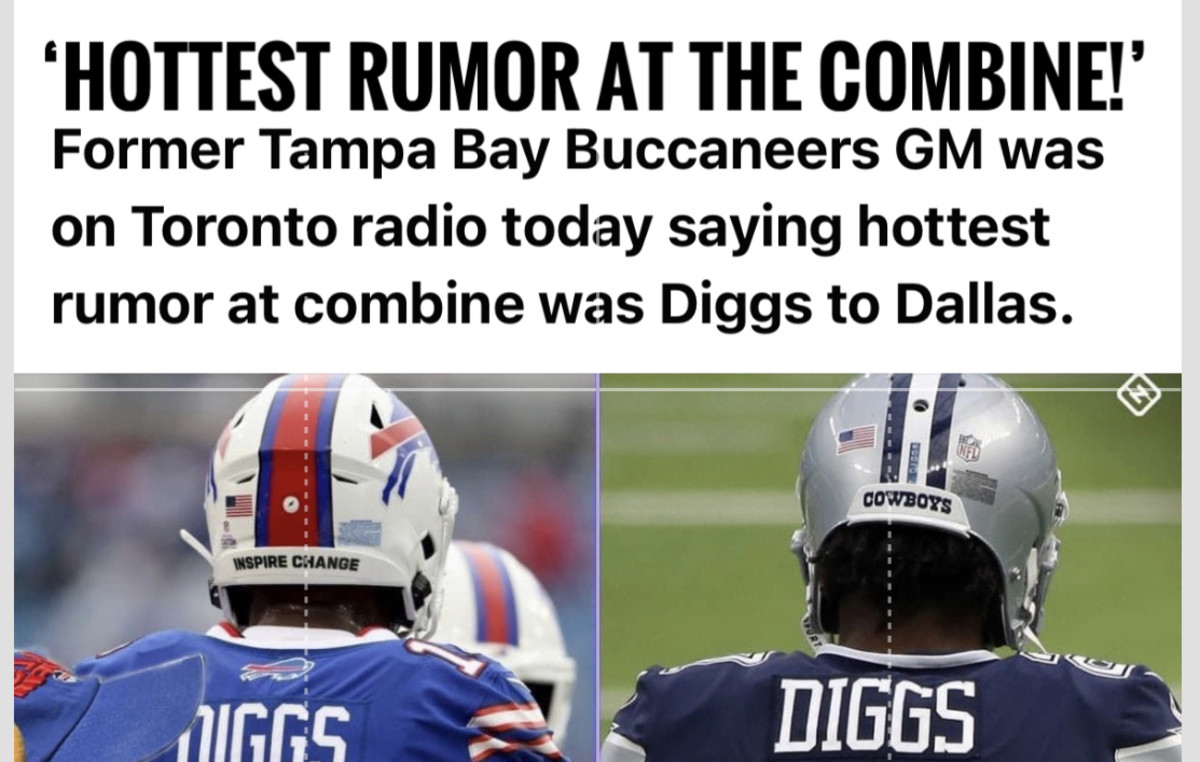 Any problems with those five occurrences? Yes. Five problems, in fact.
– Stefon and Allen are close, and Allen defended his teammates behavior by citing his passion for wanting to win.
Trevon Diggs posted an edit of Stefon Diggs in a Dallas Cowboys jersey on his Instagram story.

(via @TrevonDiggs) pic.twitter.com/uAy1L3KSOw

— RJ Ochoa (@rjochoa) February 16, 2023
– Trevon is surely aware that teams don't trade away superstars because Twitter desires it. Trevon may not be aware that in the event of a Buffalo trade of his brother, the Bulls would eat $35 million in dead money – hardly either parties' plan when last September he happily signed a four-year, $96 million pact to stay with the perennially contending Bills.
– Stefon has previously used Twitter to voice cryptic unhappiness. Indeed, he's posted recent "coded messages" that are frankly so silly that even teammate and pal Cole Beasley, the ex-Cowboys receiver, is goofing on them.
I don't know what's going on. You don't hit me up or nothing. Lol https://t.co/0cBsDmRNWg

— Cole Beasley (@Bease11) February 16, 2023
Is he toying with his fans' emotions? Talking about something other than football? Nobody knows … which he how he seems to like it.
Meanwhile. his scrubbing of old photos on social media is reportedly something he commonly does at season's end. And while he follows assorted players on the Cowboys – his "second-favorite team" for obvious reasons – he also follows all of his Bills buddies and ID's himself zzzzz
– We wonder if the "NFL GM" meme – which appears to be a hoax – simply stems from The Fan radio discussion … Which appears to be a discussion and nothing more.
Reinforcing that possibility: We asked a prominent Cowboys source about the "big, big move" report.
"No idea what you're talking about," he replied.
And one more thing: It was a recent appearance on HBO's "The Shop" when Stefon opened up about his bewilderment over Buffalo's lack of playoff success. He talked a lot. He said a lot.
But he didn't talk about wanting out of Buffalo. Rather, he spoke of the Bills as "we" as he tried to detail why the perenial-playoff Bills are falling a bit short.
"We've got the players," said Diggs. "We've got the plays. Why s*** ain't coming together? … I think it's more execution than anything … Small little pieces on why s*** is not going right.
"I'm giving this s*** everything I've got. … I'm dying on the hill for that."
This interview offered Diggs a comfortable platform from which to mention the Cowboys, had he chosen to. Or at least to suggest an exit from Buffalo, had he chosen to.
But amid all of the gossip and all of the guessing, there was none of that.
Which leaves the "Stefon-to-Dallas trade" stuck in place, stuck alongside the gossipers and the guessers.