on Sunday, the Dallas Cowboys will battle the San Francisco 49ers in an NFC Divisional matchup. This game is the second year in a row that these two teams face off in the playoffs — and the Niners won last season.
Leading up to this game, there have been several notable storylines aroundho this game that you will likely hear during the broadcast.
Some include the quick emergence of San Francisco quarterback Brock Purdy (gauging how he will look), the revenge factor as the Cowboys look to redeem themselves, and whether Cowboys kicker Brett Maher will look fine on Sunday.
While all those are important, we're here to focus on another storyline. And that's the injury report for both teams.
Surprisingly, when looking at both teams a common theme emerges.
Both are "essentially" at full strength.
I use the word "surprisingly" because both teams have battled several injuries all season, and at the most crucial time in the year, they are ready to battle.
While each team will have at least one player missing on Sunday, I don't expect anyone to say the injury bug swayed the odds toward one team over another.
So, with that in mind, check out who's missing in this NFC Divisional showdown.
DALLAS COWBOYS
On the Cowboys' side, they will be without T Jason Peters, who hurt his hip last week against the Tampa Bay Buccaneers. Although Peters was a starter, the team can rely on Connor McGovern to fill in.
But if McGovern goes down, we will have a lot of "fun" watching them shuffle linemen.
The other player who could be out is S Jayron Kearse, who hurt his knee last week against the Bucs. While that could be a huge loss that plays in the Niners' favor, expect to see him on the field as Kearse told reporters his knee is fine and he's good to go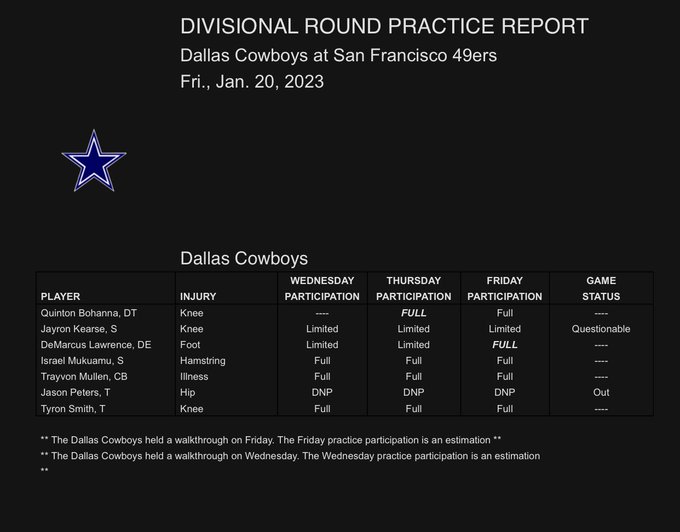 SAN FRANCISCO 49ERS
Shifting to the Niners, they are pretty healthy across the board.
The only two players that won't see action are former starting quarterback Jimmy Garoppolo and cornerback Ambry Thomas.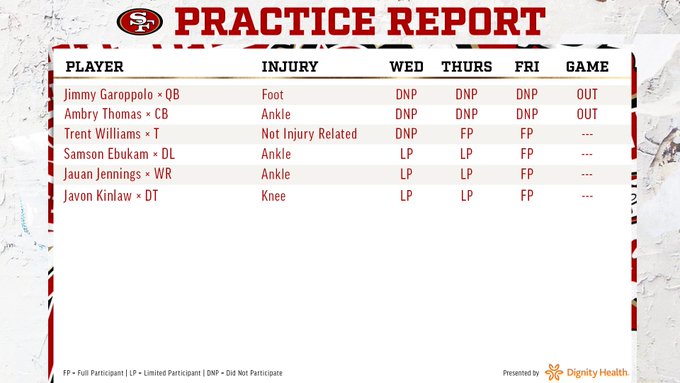 Their absences won't be a massive loss for the team, so expect this game to be exciting as both teams have all their stars available to play.